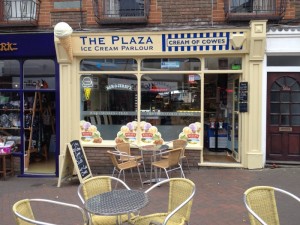 Come and visit The Plaza Ice Cream Parlour, 56 High Street, Cowes. IW. PO31 7RR
Tel 01983 249600 email theplaza@onwight.net
Latest news –Bookings now taken for our Modern Ice Cream Vans to attend your school fetes/ shows/ events and weddings for 2016.
We have 2 modern  Whitby Morrison Whippy Ice Cream Vans both in Heritage colours.
Ask for our special Happy Birthday or Wedding March Ice Cream Chimes!
To avoid disappointment please contact us early to discuss your requirements.
A full range of Kelly's Cornish Ice Cream is available at The Plaza Ice Cream Parlour.
Our Flavours include –
Cornish Vanilla, Strawberry, Triple Chocolate, Mint Choc Chip,Toffee Fudge, Rhubarb Crumble, Rum and Raison, Cookies and Cream, Eton Mess, Honeycomb, Salted Caramel, Bubblegum, Candyfloss plus many more …. New this season Cornish Cream Tea and also Lemon Crunch!
Beechdean Strawberry Sorbet.
Diabetic Vanilla Ice Cream
We also offer Kelly's Cornish Whippy Ice Cream.
The Plaza Ice Cream Parlour offers a simple ice cream cone or an ice cream dish including Sundaes, Waffles or even a Coke Float.
We also provide a selection of Nescafe coffees including Lattee, Cappuccino and Espresso drinks. 
Also – Billy and Margots Iced Treat for DOGS!  As seen on TV's Dragons Den.
Hope to see you very soon at The Plaza Ice Cream Parlour.
THINK ICE CREAM – THINK THE PLAZA!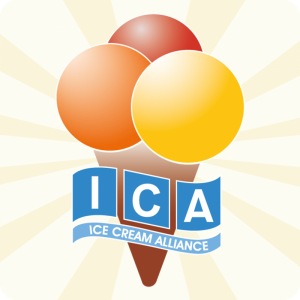 Member of the Ice Cream Alliance