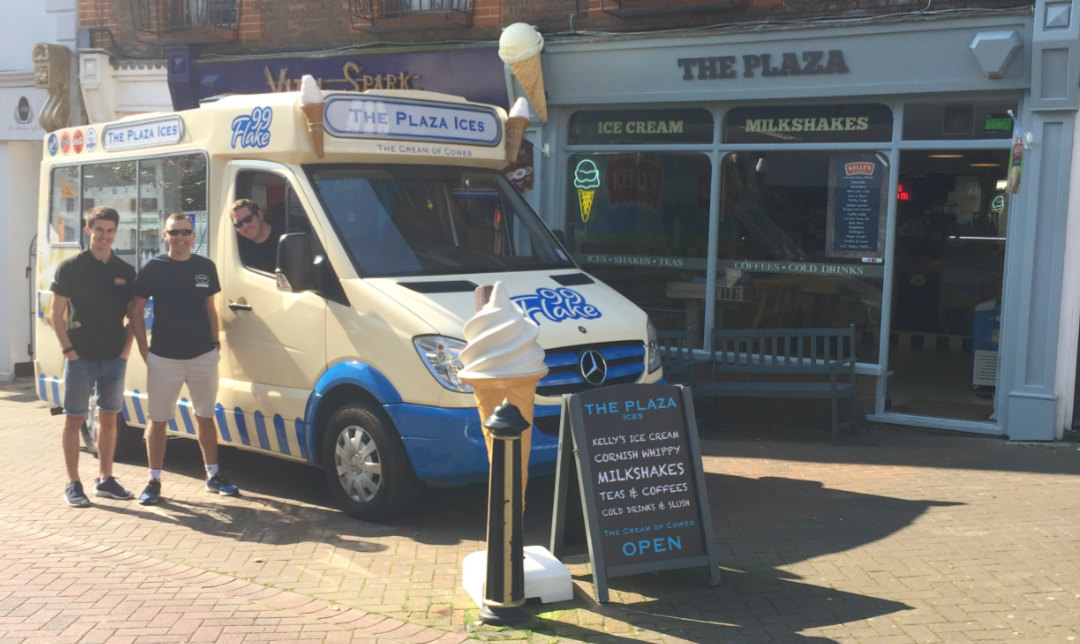 The Plaza Ice Cream Parlour  has been serving customers delicious ice cream since 2004.
Situated on Cowes High Street you are welcome to come and sit in our parlour, use our outside benches or just takeaway your favourite flavour in a tub or cone.
We also have two modern ice cream vans and one classic van –
'Flakey Mc FlakeFace' and 'WhippyMcWhipFace' serving Kelly's Cornish Whippy ice cream and also our Classic 'Mr Tubby' Ice Cream van from which we serve Kelly's Ice Cream in a tub.
You can see our vans at all of the Islands major shows and events alongside our regular spot in St James Square, Newport opposite Costa Coffee.
Please contact us to enquire how you can have one of our ice cream vans at your event, party or even your wedding.
The Plaza Ices takes great pride in its Green Credentials –
Our ice cream vans freezers are chilled down by our 17 Solar PV panels back at base.
We have undertaken a freezer replacement programme  and have now replaced 100% of our ice cream parlour freezers to AA rated ones.
We sort and separate our waste.
THINK ICE CREAM – THINK THE PLAZA!